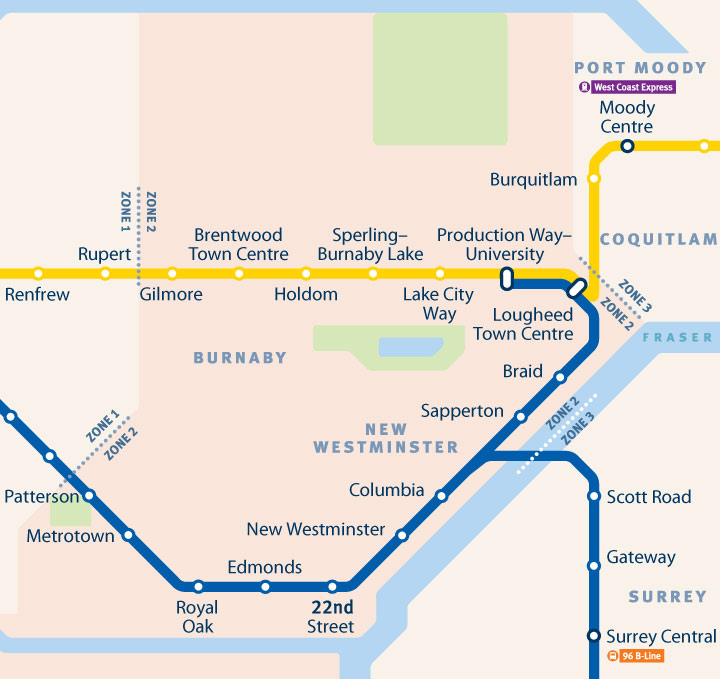 Is the Burnaby Skytrain and Bus, public transportation infrastructure easy to navigate?
Burnaby, a city located in the Metro Vancouver region of British Columbia, Canada, boasts an extensive and efficient public transportation system, particularly when it comes to its SkyTrain service. The SkyTrain, which is operated by TransLink, is a light rapid transit system that connects Burnaby to other municipalities in the region, including Vancouver and Surrey.
One of the main reasons why the SkyTrain and public transportation system in Burnaby is considered very good is its reliability. The SkyTrain has a very low rate of delays and service disruptions, which means that commuters can count on it to get them to their destination on time. This is especially important for those who depend on public transportation for their daily commute to work or school.
Another reason for the excellence of the system is the frequency of service. The SkyTrain runs at regular intervals, usually every few minutes during peak hours, and every few minutes during off-peak hours, which ensures that there is always a train available when a commuter needs one. This makes the system convenient and accessible for all, regardless of the time of day.
The SkyTrain service is also well-connected and extends to many major destinations throughout the region. The network connects to major shopping centers, recreational facilities, universities, and other important places that residents of Burnaby visit regularly. The system also extends to the nearby airports, which makes it easy for residents to travel outside the region or for visitors to come to the city.
Moreover, the public transportation system in Burnaby also includes bus and bike-sharing services which are also well-coordinated and integrated with the SkyTrain. The bus routes are designed to connect with the SkyTrain stations, making it easy for commuters to switch between different modes of transportation. The bike-sharing service, known as Mobi by Shaw Go, is a great way for commuters to easily cover the first or last mile of their journey while also promoting a more active and eco-friendly lifestyle.
In conclusion, the SkyTrain and public transportation system in Burnaby is very good because it is reliable, frequent, well-connected, and offers a variety of transportation options for commuters. With a high-quality public transportation system, residents can enjoy the many benefits that come with easy access to transportation, such as more time to spend with family, reduced stress from traffic, and a more sustainable environment.
Are you thinking about moving to Burnaby and purchasing a home?
I work with a variety of buyers and sellers, such as first-time home buyers, up-sizers, down-sizers, investors and more. I am very client-oriented and will always do what is in the best interest of my client, regardless of whether or not it results in a sale. Honesty, hard work and dedication are at the core of my business, but importantly, I believe in full transparency.
I specialize in both detached and attached residential properties including condominiums, townhouses, duplexes and detached homes. My home and office are both located in Burnaby, however I serve in multiple cities, including Vancouver, New Westminister, Port Moody, Coquitam, Port Coquitlam, Surrey, Langley, Maple Ridge and more!
By allowing me to serve you as your realtor, rest assured that you will receive top-notch service in the process of buying or selling a home.